Villa Layout
Villa LeGa is arranged in an L-shape around a 12 x 4-metre swimming pool and hardwood deck topped with sun loungers. Its small but beautifully formed garden comes complete with soothing water features.  Opening onto the pool and gardens through wide sliding glass doors, is a large open-plan living and dining room with a modern kitchen and breakfast bar, as well as two large guest bedrooms. The two master bedrooms and third guest bedroom on the floor above are even more spacious. Upstairs you'll also find an air-conditioned TV lounge and a large rooftop terrace with comfortable sun loungers.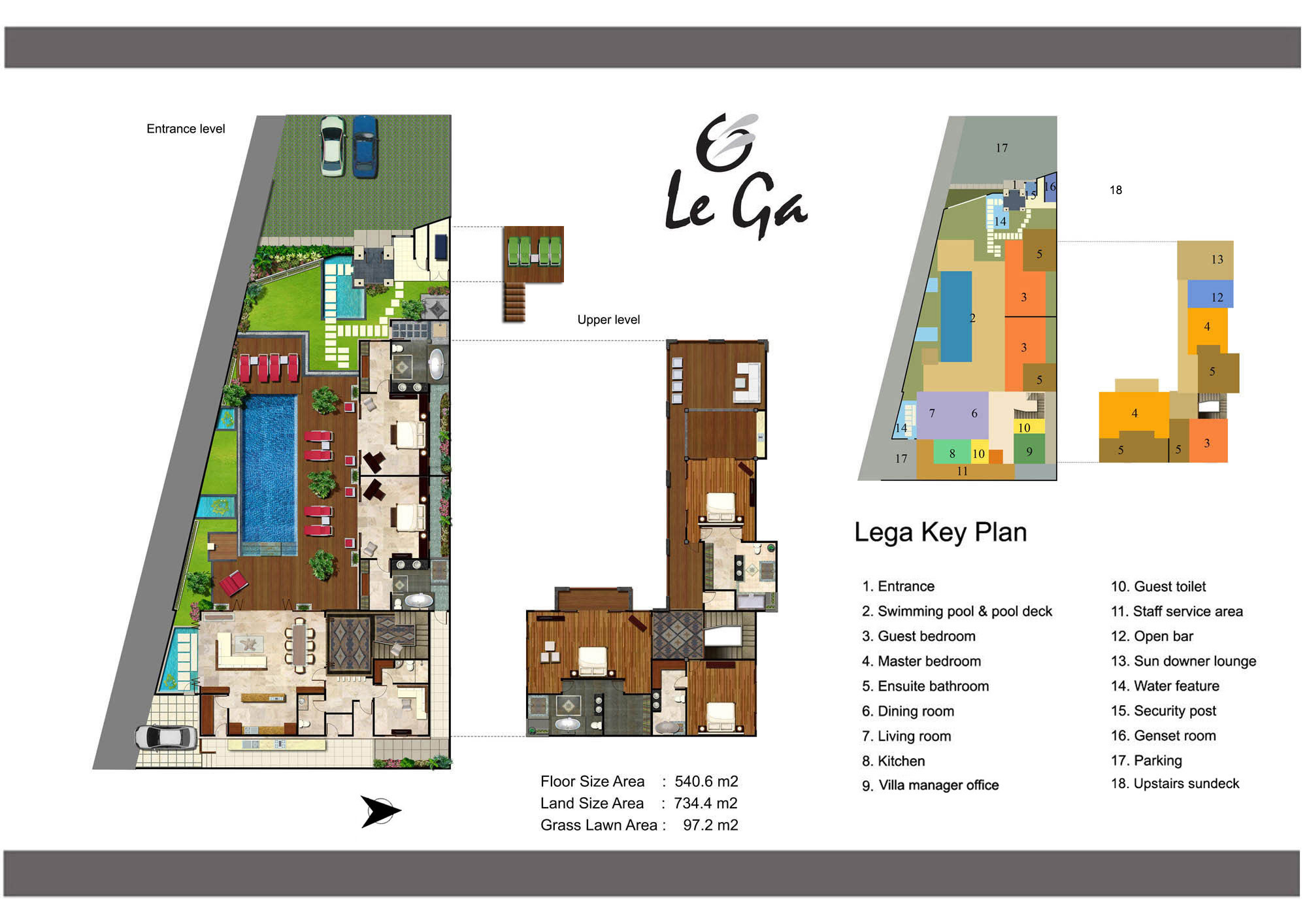 Download in high resolution
Living Areas
Indoor living
Villa LeGa's generously sized living and dining room has a marble floor and folding glass doors that open to the pool deck, offering guests the choice of air-conditioned comfort or tropical open-air living. The living area is furnished with a yielding L-shaped sofa and a glass-topped coffee table in front of a large flat-screen TV, while the dining area boasts a handsome solid wood dining table for 12. A state-of-the-art, open plan kitchen and breakfast bar fits in neatly to the rear of the living and dining space, and a guest washroom is located to the side.
Adjacent to one of the upstairs master bedrooms is a comfortable, air-conditioned TV lounge furnished with soft couches and equipped with a large flat-screen satellite-channel TV with DVD player. Curtains on all sides shut out the sun for daytime movie viewing and give privacy to the bedroom next door. The TV lounge can also be accessed from a balcony that runs the length of the first floor.
Outdoor living
A splendid upper-floor sun terrace, furnished with all-weather armchairs, sofas and sun loungers, takes pride of place at the front of the villa – an idyllic spot for hanging out with friends, sipping sunset cocktails or enjoying a little late-night stargazing. A more intimate spot for sun worship lies above the villa entrance. Both offer absolutely magnificent ocean views.


Bedrooms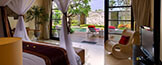 Each of the five large bedrooms at Villa LeGa has a bright and airy feel.  Original paintings adorn the walls and objets d'art add genuine Balinese charm.  All bedrooms have immaculate ensuite bathrooms, dressing areas and floor-to-ceiling glass doors. They each have a unique personality with silks and soft furnishings in different colours and style.  All bedrooms are furnished with romantic canopied king-size beds and writing desks and equipped with satellite-channel TVs and a DVD players.
The two master bedrooms have generous sitting areas and private balconies which overlook the beach and the garden. The upper-floor guest room lies to the rear of the villa and, although it doesn't overlook the ocean, it oozes romance thanks to a lovely soaring roof and warm timber floor.  The two downstairs guest rooms open up to the pool and are mirror images of each other. Both have semi-outdoor ensuite bathrooms with tubs and showers.